Iranian saffron is under serious threat as a result of US sanctions, which have led to this valuable spice, known as "red gold", being smuggled into Afghanistan.
The obstacles created to the transport system and banking transactions for the export of Persian products, including saffron, are linked to the sanctions imposed by the United States on Iran in 2018, after Washington withdrew from the nuclear agreement.
"The unilateral sanctions on the Iranian economy have had a very negative effect on the activity of producers and exporters in the agricultural sector due to the limitations on foreign currency transactions," lamented Ali Sharyatí, president of the Agriculture Commission of the Iranian Chamber of Commerce, in statements to Efe.
Added to this is the consequent devaluation of the national currency, the rial, which led the Iranian authorities to apply a restrictive regulation on foreign exchange, detrimental to exporters, some of whom have opted for smuggling to increase their income.
"The existing foreign currency laws in the country have caused [saffron] to be smuggled into Afghanistan and exported from there," Shariati said about the current situation of "red gold," of which Iran is the world's biggest producer.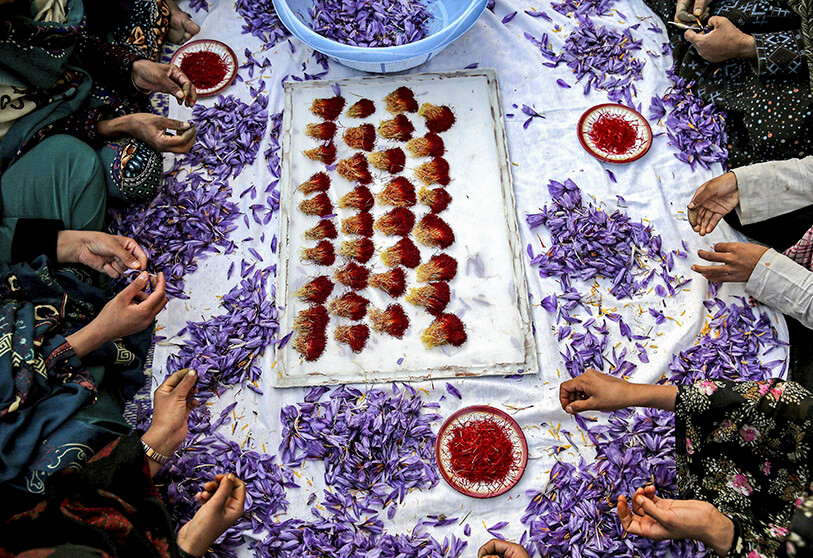 "A serious threat" 
The also president of the board of directors of the saffron Export Development Fund explained that previously the saffron bulb was already being smuggled to Afghanistan to be cultivated there, but in the last two years, as a result of the sanctions, this illegal trade is being carried out with the flower's own threads.
Only between March 2019 and March 2020 (the year 1398 in the Persian calendar), 50 tons of Iranian saffron were smuggled into Afghanistan, according to Shariatí who called this situation a "serious threat" to the local market for this exquisite product.
With an annual production of about 500 tons, Iranian saffron is equivalent to more than 90% globally, but farmers and exporters do not get as much profit as they should.
"The smuggling of any product harms the healthy commercial activity of the country because the demand for companies working within the legal framework is transferred to this irregular sector and prices are reduced," said Shariatí, who is also responsible for the largest saffron processing and packaging company in Iran, Novin saffron, based in the northeastern city of Mashad.
About Afghanistan, he added that in that country only 17 to 20 tons of "red gold" are produced, but "there the saffron that arrives from Iran is packed as if it was of Afghan origin and it is exported to different countries of the world like India and USA".
Previously, within a legal framework, the main buyers of Iranian saffron were Spain and the United Arab Emirates, which have been joined more recently by Hong Kong and Vietnam, from where it is exported to China.
European standards, a recurring complaint
Exporting to the European Union (EU) is complicated by agricultural legislation and regulations that also apply to imported products.
"Iranian companies do not have the capacity to comply with European standards. It is difficult: that is why they repackage there and sell it with their own packaging," he told Efe Rasul Sabaghzadeh, director of the Iranian saffron packaging company Sabaghzadeh.
Among the European countries that do this business with Iranian saffron, Spain stands out, considered a major exporter worldwide, but which sells mainly "red gold" of Iranian origin bought in bulk, since its local production covers only a small part.
Sabaghzadeh explained that his company exports each year 20 tons of saffron, generally in packages of 500 grams, to Spain, where the packaging is changed and sold to other countries under a different brand.
In her company, located in Mashad, dozens of women cleaned the saffron threads delicately, separating them with tweezers, for their later packaging and sale.
A solution: products with added value  
To try to improve their income and increase consumption of this spice, Iranian producers of saffron have mobilized to present in the coming years secondary products.
"We have strengthened at the scientific level the development and innovation sector of our work to achieve products with greater added value," said the head of Novin saffron.
Currently in Iran, in addition to the use of saffron threads in rice and stews, there is a wide variety of food products flavored with saffron: flour for batter and to prepare cakes and desserts, infusions and sugars, among others.
Shariatí predicted that if these secondary products are promoted and the packaging is improved, "effects will be seen in the next two years" and exports will double, largely to East Asia.
In addition to these changes, Iran is working on the quality of saffron to enter the organic market and be able to supply 50% of the demand from EU countries in about three years.
source: atalayar