What is Pistachio?
The English name pistachio is derived from "Pisteh", which is a Persian name. Also known as the green almond. pistachio nuts are intertwined with Iranian culture and are actually present in all facets of Iranian life. pistachio nuts get a mention in all Iranian literature, stories, beliefs, traditions and rituals such as Norooz (New Iranian Year) and Yalda festival are even consumed in weddings and funerals.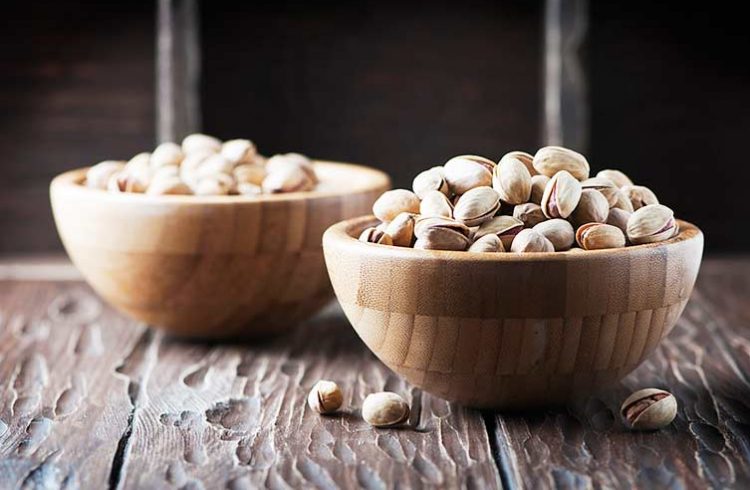 Iranian poets and literary figures have also referred to pistachio nuts in their works. For Iranians no festivities and feasts can be held without pistachio nuts as well as other nuts like walnuts, almond, raisin, hazelnuts, etc. They celebrate Iranian New Year by eating pistachios. If they cook special dishes, they decorate them with pistachios. Even treats such as 'Gaz' contain pistachios. pistachio nuts are of strategic importance among Iranian producers of agro products.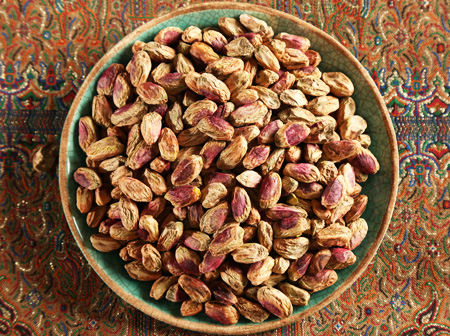 Iranian Pistachio
There is no doubt that  Iranian pistachio has the best taste and maximum nutrition.  The special climate of Kerman province is the only best place for growing pistachios.
Iranian pistachios offer various advantages that set them apart from other types of pistachio in the world. Higher meat content offers better value for money. Iranian pistachios have a world-famous taste that is unrivalled. This taste advantage is enhanced by roasting Iranian pistachios at higher temperatures, made possible by higher unsaturated oil content. This high temperature roasting eliminates any bacterial contamination, which may be present in raw product.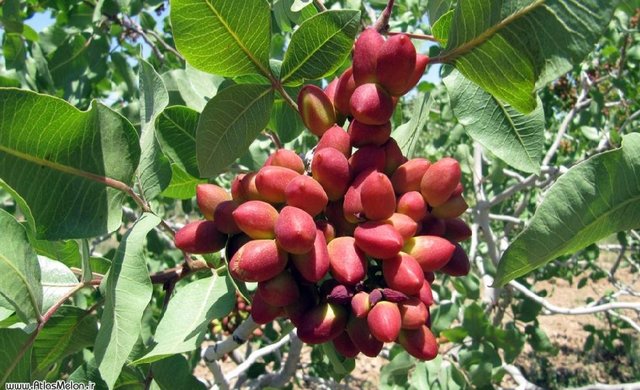 Iran exports 150,000 to 200,000 tons of pistachios annually. This is while the global demand for Iranian pistachios can even reach a few million tons. Presently Iran accounts for more than 50 percent of global pistachio production. Currently, pistachios grow in over 360,000 hectares of land in Iran and Kerman province procures 77 percent of the country's pistachio needs. The province is essentially viewed as the most important region in the world for growing pistachios. Other areas of the country wherein pistachios are grown include Yazd, Khorasan, Fars, Semnan, Sistan and Baluchestan, Qazvin, Isfahan and Qom.
Iranian Pistachio types
Iranian pistachios include many local name and each name represent a region shape or quality type. However in term of shapes there are in four main groups. Long , Jumbo, Round and Kernel pistachio and green skinned pistachios.
Iranian Long Pistachios
The most famous local brands of Iranian long pistachio are as the following:Iranian long pistachios – Akbari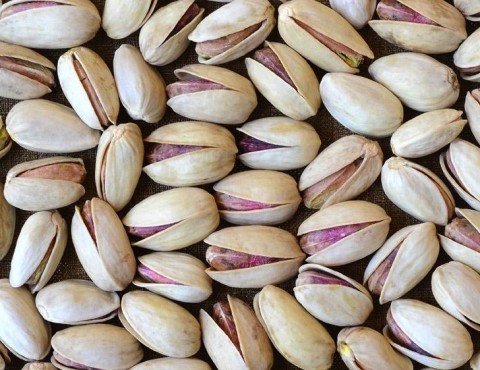 Akbari: This type is the highest economic value. Its fruits are large and almond shaped. It can be harvested in late September. This is a newer variety with good yield and with long, large nuts.
Momtaz: The fruit of this nut is almond shaped. It is very delicious compared to other types of pistachios. It can be harvested in late September.
Badami; This nut is generally small. It mainly grows in gardens of Zarand, Kerman. It can be harvested in early summer.
Ahmad Aghaei: This nut is rather large and its fruit is almond shaped. It can be harvested in late September. The newest commercial variety, very popular with the farmers, because of high yield and its shorter time to reach production. It is very popular in some markets like India and Greece. Production of this variety is increasing. It also has the whitest shell hue among the four.
Available sizes of Iranian Long pistachio are 20/22, 22-24 and 24/26, with 18/20 also available in small quantities. pistachio size unit is the number of nuts in one Once.
Iranian Jumbo Pistachios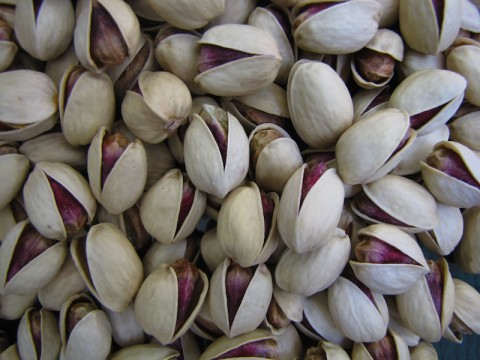 On the whole Kalleh Ghouchi is not being budded anymore and production is from existing trees. Although commercially quite successful, Kalleh Ghouchi trees showed a steep drop in growth and production as they grew older than 40 years old. It is expected that the production would slowly decline.
Available sizes are 20/22, 22/24 and 24/26, with 18/20 being available in small quantities.
Fandoghi: This cultivar is the most widely available pistachio variety and grows in most pistachio growing areas of Iran. Fandoghi is of round type and has the lowest shape index among the four cultivars. In recent years, around 50% of Iranian production is of the Fandoghi type. The reason is its limited yield, the new orchards are seldom planted with this variety.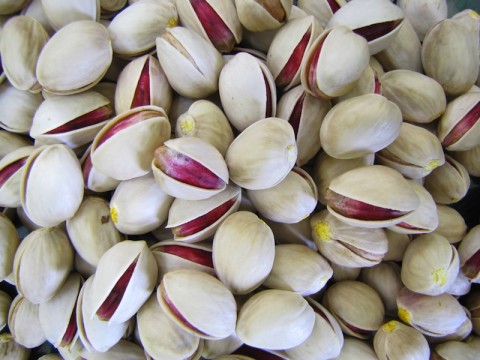 It comes in the following sizes 28/30, 30/32 and 32/34 nuts per ounce. Size 26/28 is also available in small quantities.
This type of pistachio has totally green color which is used in food industrial. Commonly use to color and flavor the ice cream, chocolate or cake.