The effect of anything shows its worth. Some people or some things are known to change the equations and saffron is one of these things. In fact, anything which saffron is added to it can be defined before and after adding saffron. saffron transforms smell, color and taste. saffron even raises the respect of your product. When you give your audience something with saffron, you have indeed respected and appreciated them. Perhaps the best word that can be selected for saffron is power.

Iran can be considered as the cradle of the world's saffron. Almost 90 percent of the world's saffron is produced in Iran. Even many of saffron that are distributed with label of other countries are from Iran. saffron in Iran goes back 3000 years and still has its own power. saffron is known as the red gold of desert because its origin is Iran's deserts. Even Unlike the fact that many believe the word saffron originates from Arabic name, Iran is the origin of its name and most of the Arabic sources have reference to Iranian sources.
A FEW SECRETS ON HOW TO GET THE BEST FROM saffron
Always store saffron in a cool dry place.
Before using your saffron to spice your dishes, infuse the threads in warm water, neither too hot or too cold: 60°C is ideal. Leave them to infuse for 15 – 30 minutes, saffron only releases its full aromas and colour after such a time (if the water goes red immediately that means the saffron has been coloured artificially).
For four use 12 threads of saffron, i.e. around 0.4 g.
Do as the Iranians and use your pestle and mortar.
Put the threads in the mortar.
Sprinkle over a tablespoon of sugar.
Grind with the pestle.
Add a tablespoon of water.
Your heavenly potion is ready.
Indulge and enjoy.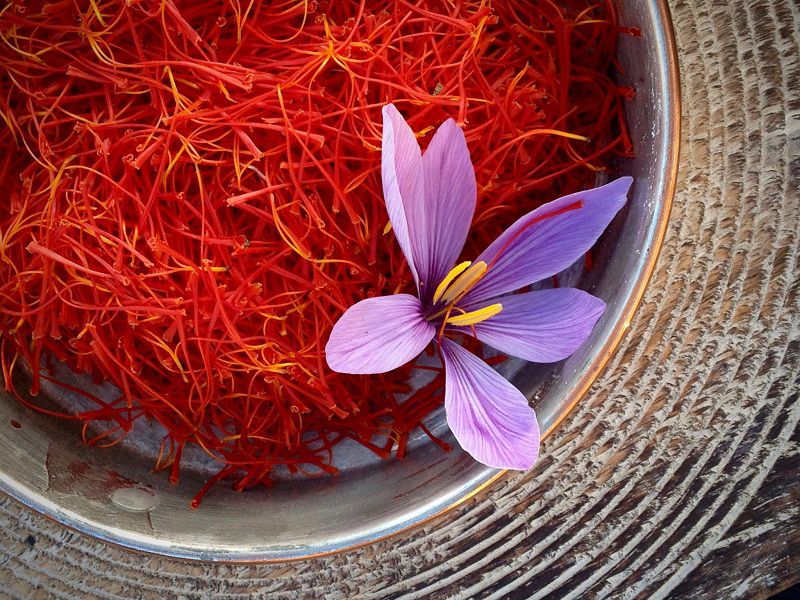 Always add saffron at the very last moment, it must never be cooked!
All stew-like dishes and particularly oriental dishes will delight with a hint of saffron. Try:
Tagine of poached white fish in a subtle yellowly-orange citrus fruit nage ….
Roast lamb with crunchy vegetables.
Autumn vegetable soup, and particularly vegetables from the gourd family.
A classic white butter sauce will be transformed with a hint of saffron to enchant delicate fish.