Stone & Iran
Extracting and using building stones in Iran, has a long history. Using these stones as building stones or dimension stones was ordinary in the first millennium of formation of civilization in Iran. The remaining vestiges of using them in Persepolis, Pasargadae, Takht-e Soleymān and many other Islamic and Sasanian buildings is distributed all over the country.
There are totally 15 billion tonnes of dimension stone resources in the world, which includes, Granite, Marble, Onyx and Travertine. There are 4.7 Million tonnes of resources in Iran, which makes it the fourth country in the world, but considering color variety and quality, Iran is ranked first in the world. In respect to the importance of mining section to the country's economic growth, it is highly recommended to give more attention to this section.
Persepolis
Two main kinds of stones are used in the structure, light-colored limestone extracted from Kuh-e Rahmat in Shiraz and grey stones, extracted from Sivand and Majd Abad (25Km south of Persepolis) mines. These stones were carried to desired places in blocks as heavy as 30-40 tonnes, and it is worth mentioning that weight of only one of the columns is 17 tonnes.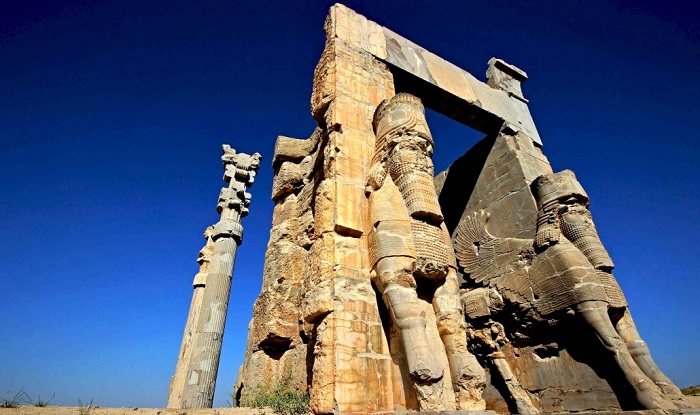 Pasargadae (Tomb of Cyrus the Great)
The stones that are used in Pasargadae and Persepolis include white limestone (similar to Onyx), grey stone similar to Granite in hardness and sometimes black Marble which is very fragile. This black stone after 25 centuries has become very fragile and is easily broken into pieces, but the other 2 types are very durable. White Marble stones are extracted from Sivand mountain and black ones are extracted from Tang-e Siah and Tang-e Bolaghi Mountains.