saffron is cultivated in many environments characterised by different pedo-climatic conditions, and its global production is estimated at 418 t y−1 (Agricultural Statistics, 2018). It is largely cultivated in Iran, India, Afghanistan, Greece, Morocco, Spain and Italy. Iran is considered as the largest producer in the world, with 90 % of the global production. Moreover, Iran's saffron production has increased over the past decade, from 59,000 ha and 230 t in 2007 to 108,000 ha and 376 t in 2017 with an average yield of 3.53 kg ha−1 (Koocheki et al., 2019). In detail, the areas under cultivation are in Khorasan Razavi (84,738 ha), Southern Khorasan (15,754 ha), Yazd, Fars, Isfahan, Kerman and Northern Khorasan (5,260 ha) as well as other provinces (2,248 ha) (Agricultural Statistics, 2018).


Afghanistan (Herat Province) has a cultivation area of 7,557 ha, followed by India (Jammu and Kashmir regions) with 3,674 ha (Ganaie and Singh, 2019), Greece (Krokos Kozani, Karyditsa, Agia Paraskevi, Ano Komi, Kato Komi, Pefkopigi and Petrana) with 1000 ha, Morocco with about 850 ha (730 in Taliouine and 120 in Taznekht with a production of 4 t) (FAO, 2018), Spain with 150 ha (88 in Castilla-La Mancha, Albacete, Toledo, Cuenca and Ciudad Real), Italy with 70 ha and France with 37 ha. In Italy, saffron is more widespread in Sardinia (37–40 ha in San Gavino Monreale, Turri, Villafranca), Abruzzo (6 ha in L'Aquila), Sicily (5 ha in Enna). Other small cultivations are situated in Umbria (Perugia, Cascia), Tuscany (San Gimignano, Arezzo and Maremma Grossetana) and other regions of South Italy.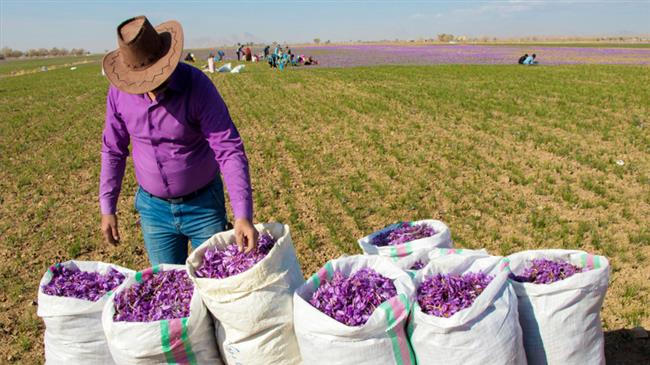 According to the available statistics, in European countries there was a drastic reduction in saffron production. In Spain, saffron dropped from 6,000 ha in 1971 to 150 ha, in Greece it decreased from 1,600 ha in 1982 to 860 ha, and in central Italy (Abruzzo) it fell from 300 ha in 1910 to 6 ha. Also, in India (Kashmir), there is now a rapid decline of the saffron industry: from 5707 ha with an annual production of 15.95 t in 1997 to 3,674 ha with an annual production of 9.6 t in 2015 (Daawar and Yadvinder, 2019). Despite Iran being one of the oldest historical saffron producing areas, saffron yield per unit area has significantly fallen from 5.1 kg ha−1 in 1982 to 3.5 kg ha−1 in 2017. saffron yield loss can be caused by several factors, i.e.: poor soil fertility, the lack of availability of good quality corms as propagation material, and assured irrigation, infestation by rodents and diseases (Fusarium oxysporum f.sp gladioli, Penicillium spp, Rhizoctonia violacea), poor postharvest management, improper marketing facilities, adulteration and the adverse effect of climate change as well as the recent droughts.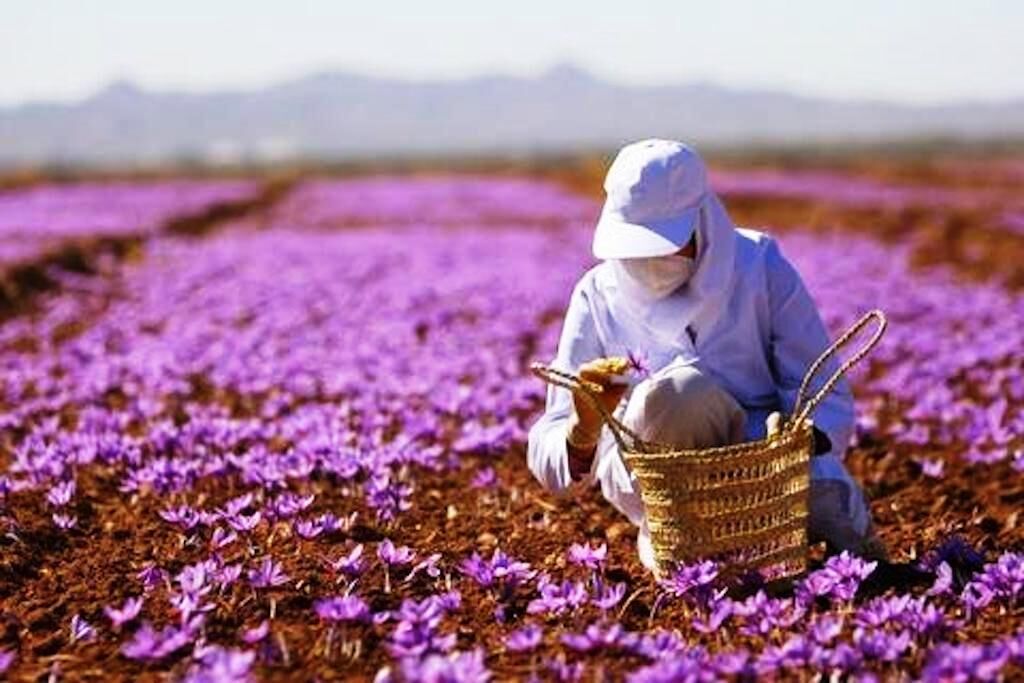 The global market size of the saffron sector was 213 million US $ in 2016 (imports). Since 2013 exports in value have continuously increased, but since 2014, the exported quantity has decreased due to the exchange rate fluctuations faced by the Islamic Republic of Iran. The top exporters of saffron are Iran (48 %), Spain (27 %), Afghanistan (7.7 %), Greece (2.9 %), France (2.7 %) Hong Kong (2.5 %) and Portugal (2%). The top importers are Spain (23 %), Hong Kong (8.7 %), the United States (7.6 %), India (7.0 %), Italy (7.0 %), China (6.2 %), France (5.2 %), Saudi Arabia (4.2 %) followed by Sweden (3.8 %), Argentina and the United Arab Emirates (2.5 %) (https://oec.world/ en). In general, global imports of saffron grew 7% annually between 2012 and 2016, indicating that the industry has long-term sustainable growth potential. saffron demand is increasing (+23 %) in South Asia. India is the fourth-largest saffron importer, where the explosive economic growth has made saffron accessible for an ever-increasing number of middle- and high-income households. Between 2012 and 2016, Afghanistan and Hong Kong (China) became fast and large exporters of saffron, and thus could be a serious competitor against other major exporters. In particular, Italy exports only 0.38 % of global export to Switzerland (18 %), United States (16 %), Germany (15 %), United Kingdom (10 %), Brazil (7.0 %), Spain (4.2 %), Russia (3.8 %) and imports 7.0 % of global import from Spain (39 %), Iran (30 %), Hong Kong (11 %), Greece (8.7 %) and China (3.3 %) (https://oec.world/en/).